Corsair iCUE H150i ELITE CAPELLIX: Introduction
The Corsair iCUE H150i ELITE CAPELLIX liquid CPU cooler provides extreme performance and flashy RGB light shows. It sports a graceful design using a slender 360mm radiator paired with three 120x25mm magnetic levitation RGB fans. The base uses a split-flow copper cold plate with 128 micro-skived fins per inch. Skiving provides excellent thermal transfer and having such a high density will provide a lot of cooling performance.
The centrifugal pump sits on top of the cold plate, rated for up to 0.82L/min with under 20 dBA of noise. On top of the pump is a power adapter with 33 CAPELLIX RGB LEDs, and replaceable pump caps. By default a black pump cap is installed which lets less light out, and users can swap it out for a white model that is more transparent to let more RGB lighting out.
For controlling the fans, pump, and lighting Corsair includes an iCUE Commander CORE, which has a special port for the pump and can support up to six fans and RGB connections, as well as a temperature probe. MSRP for the Corsair iCUE H150i ELITE CAPELLIX is $189.99 USD.
Corsair iCUE H150i ELITE CAPELLIX: Closer Look
The front of the box shows off the whole cooler lit up with RGB colors throughout. The default black pump cap is shown in all of the photos. The bottom panel highlights the top and bottom of the pump/block, as well as the dimensions of the radiator with and without fans installed. The specifications and features are translated in nine different languages. The rear side shows renders of all the included contents, and describes the supported systems. After opening the package, you'll find the warranty guide and installation guide sitting on top of a foam sheet.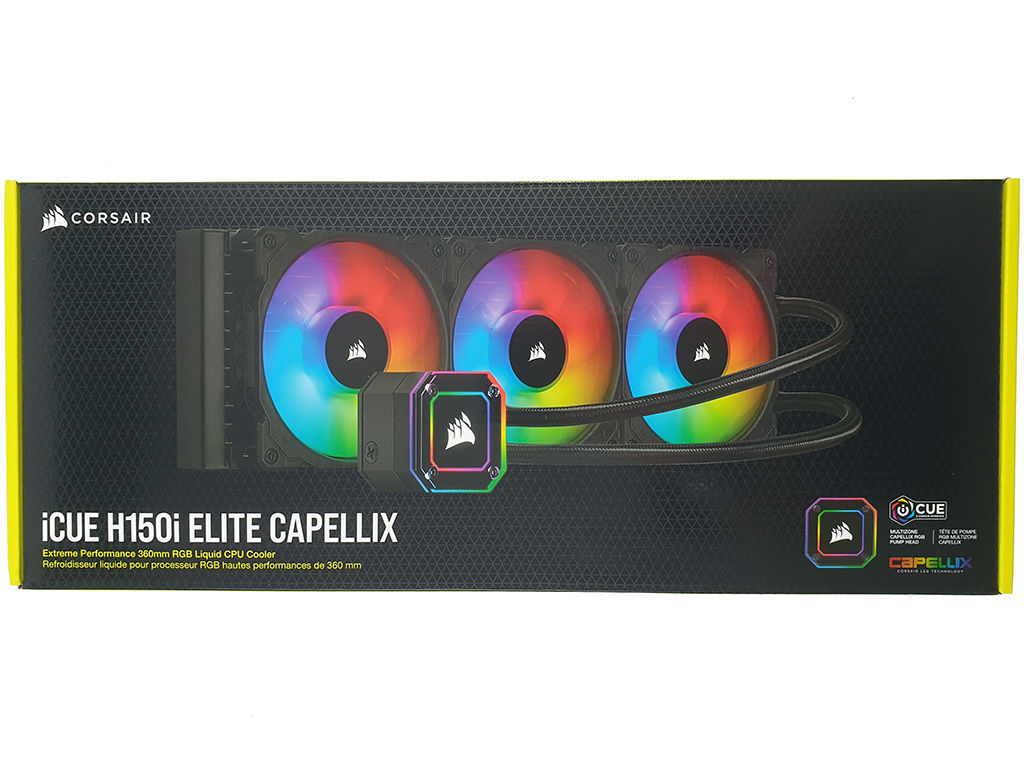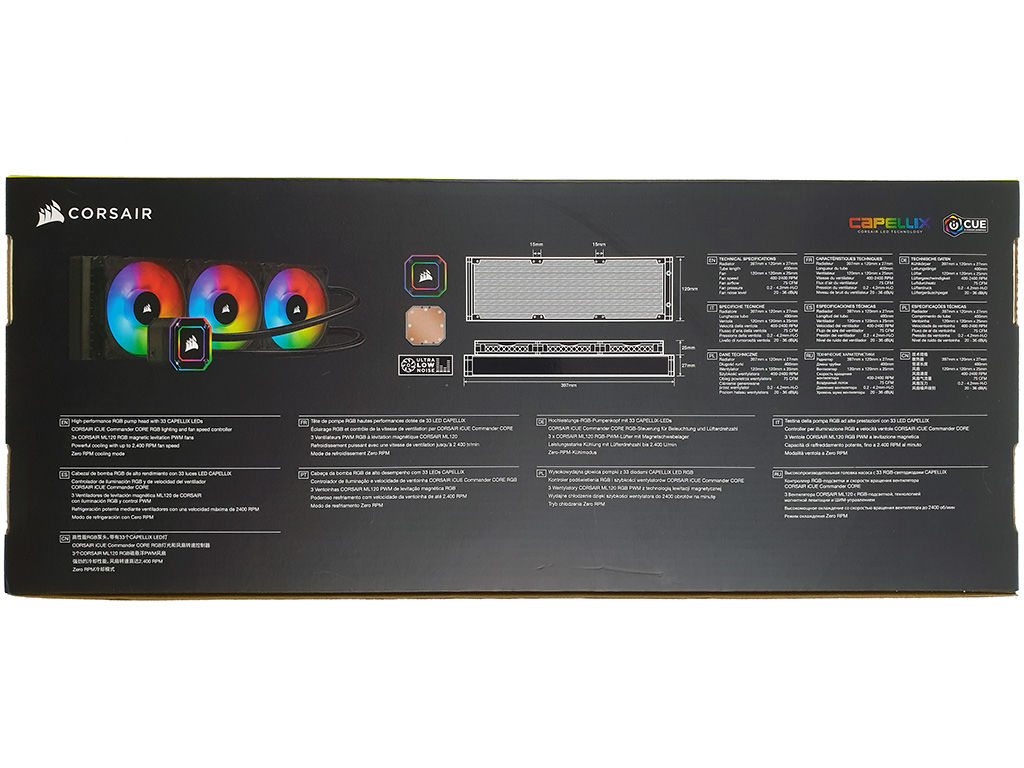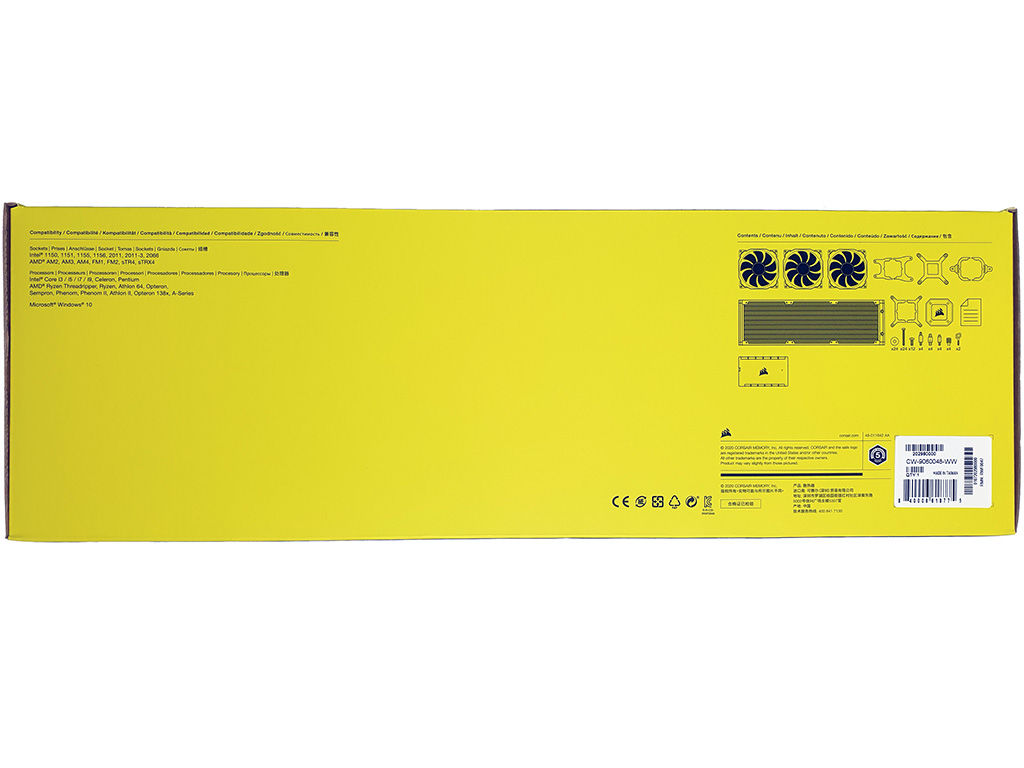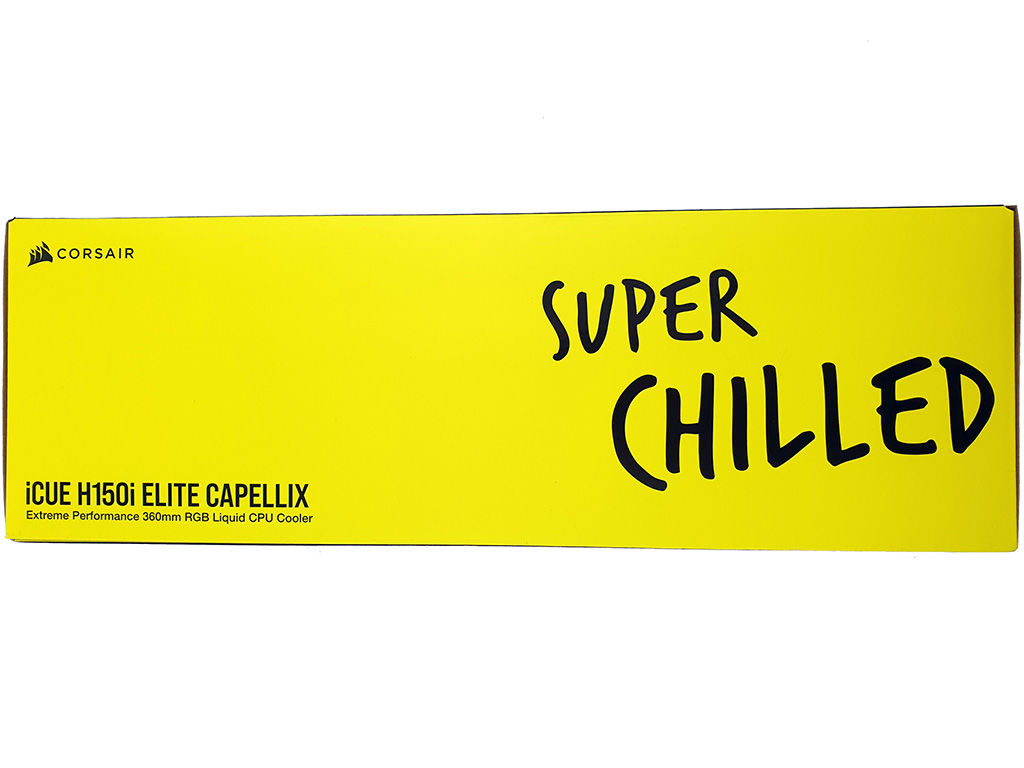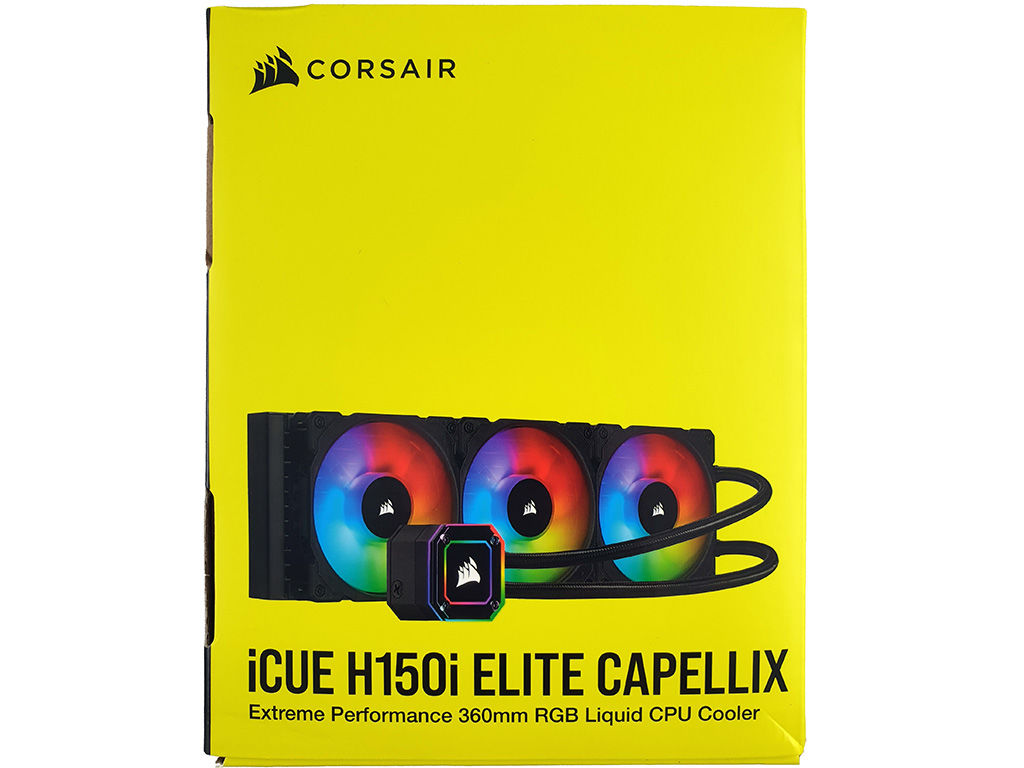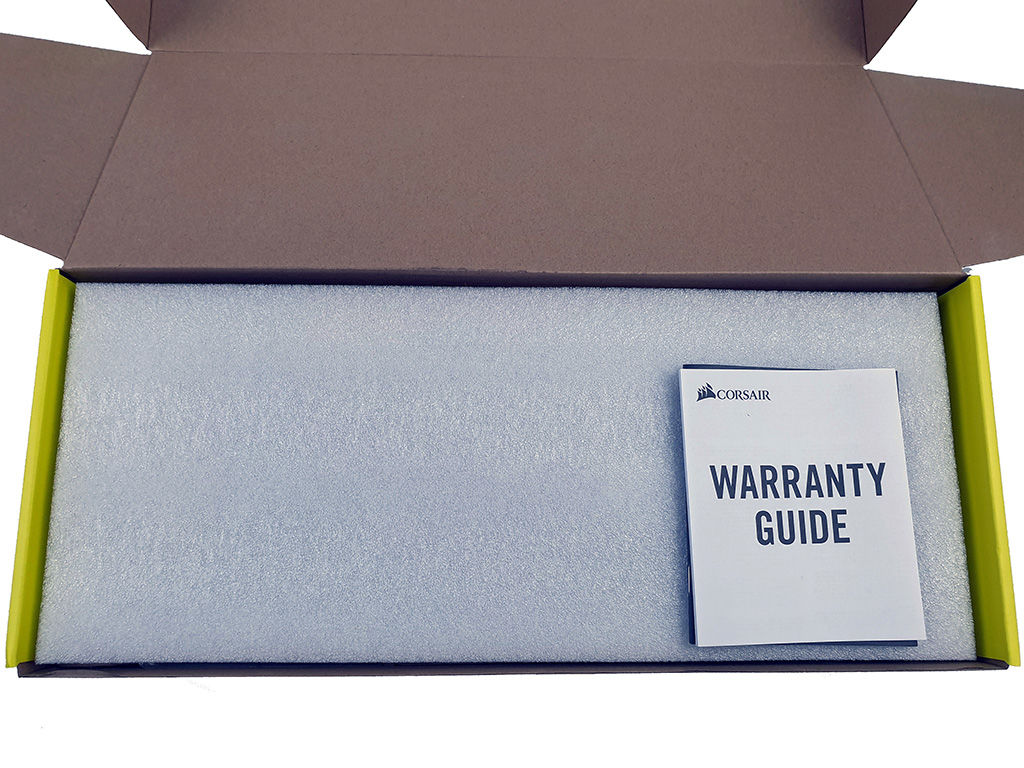 Lifting up the foam sheet reveals all of the hardware protected by individual plastic bags. The three fans sit between the hoses and radiator, while all of the mounting hardware has it's own pocket in the formed cardboard support. In terms of mounting, the H150i supports Intel 1200,1150, 1151, 1155, 1156, 1366, 2011, and 2066 sockets. When it comes to AMD the H150i also supports the AM4, AM3, AM2, sTRX4, and sTR4.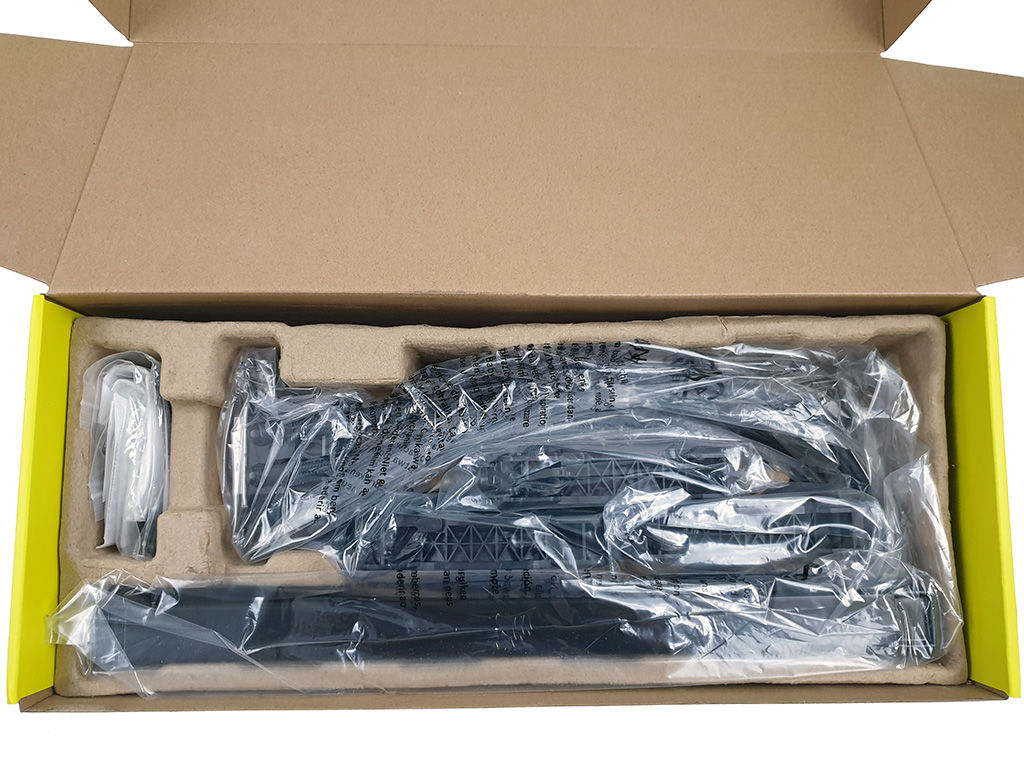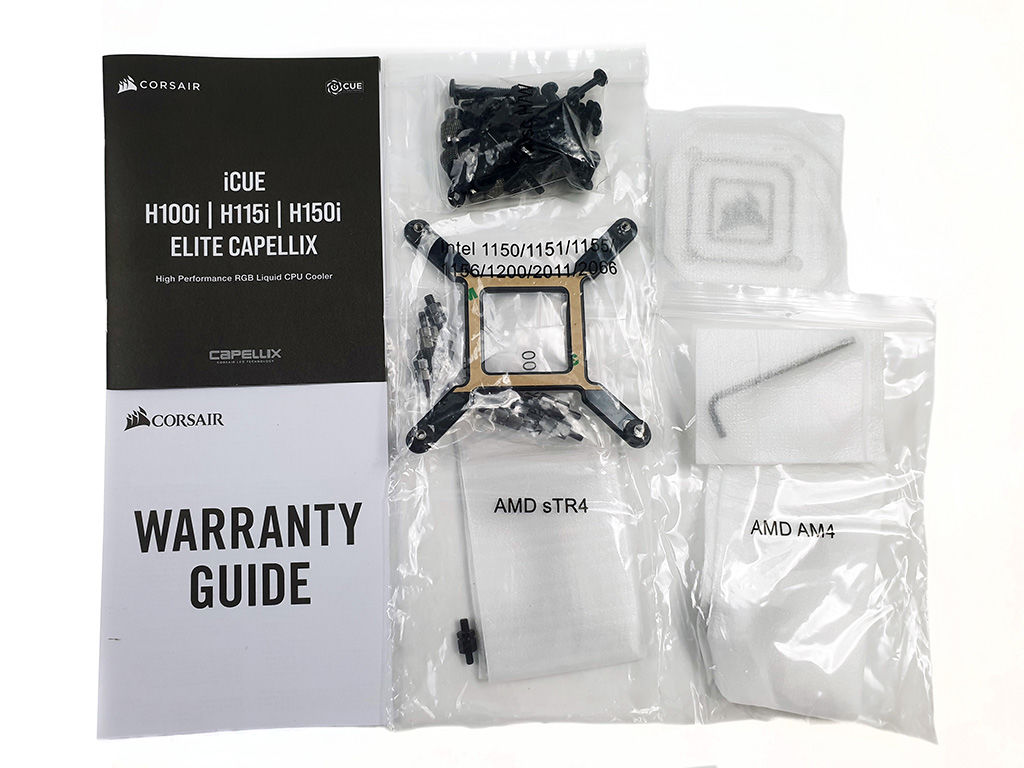 The cooling block pump housing has four hex head bolts holding the RGB pump cap to which the power delivery and pump RPM header cable are attached. Removing the bolts allows users to take the cable off of the block, and change the pump cap between the more opaque black or more transparent white variants. The base plate comes with thermal paste applied in a textured sheet. Nine screws hold the base plate to the housing, and four screws hold the mounting brackets in place. The hoses are low-permeation rubber covered in vinyl sleeve to make it more attractive, while adding some protection.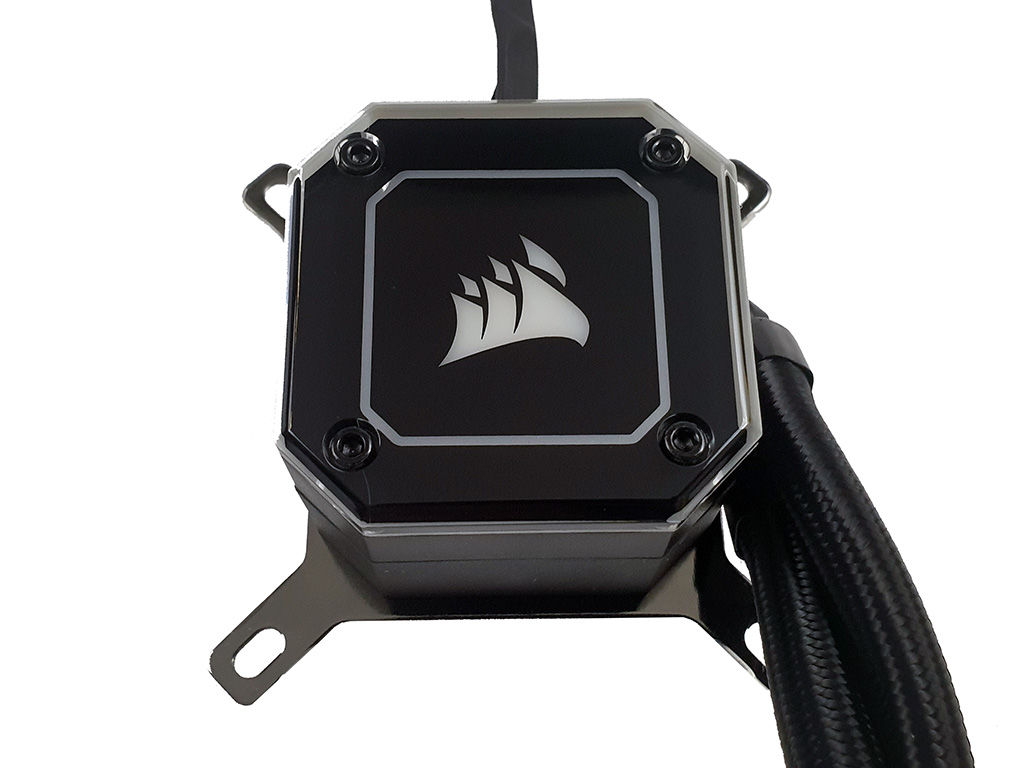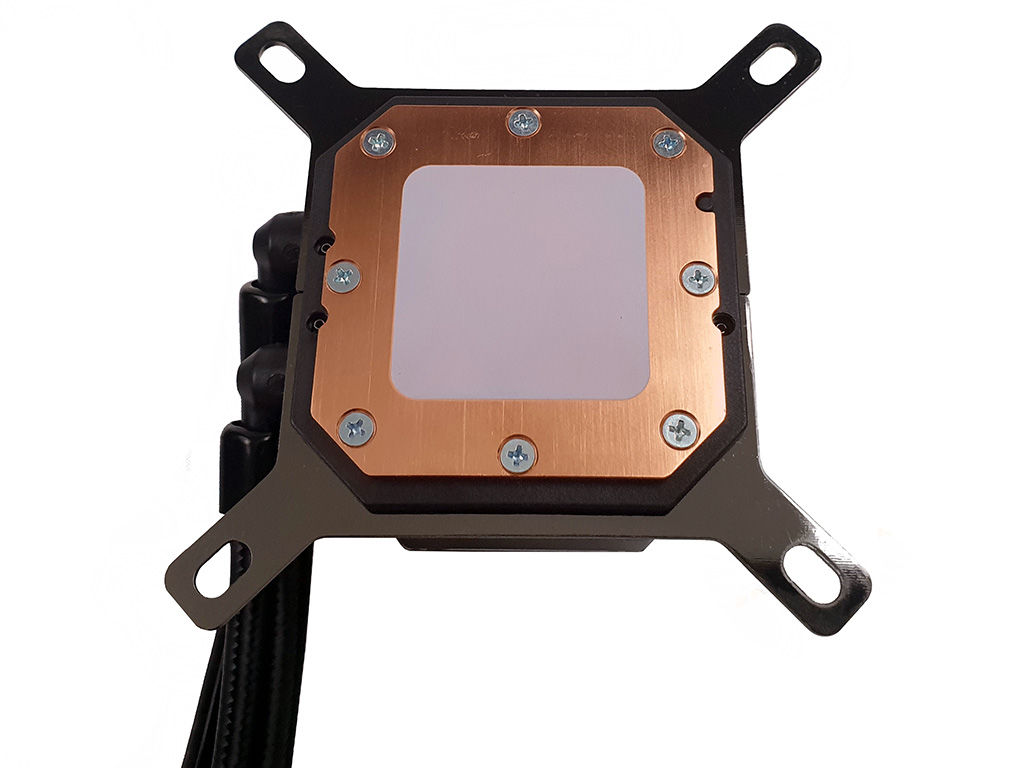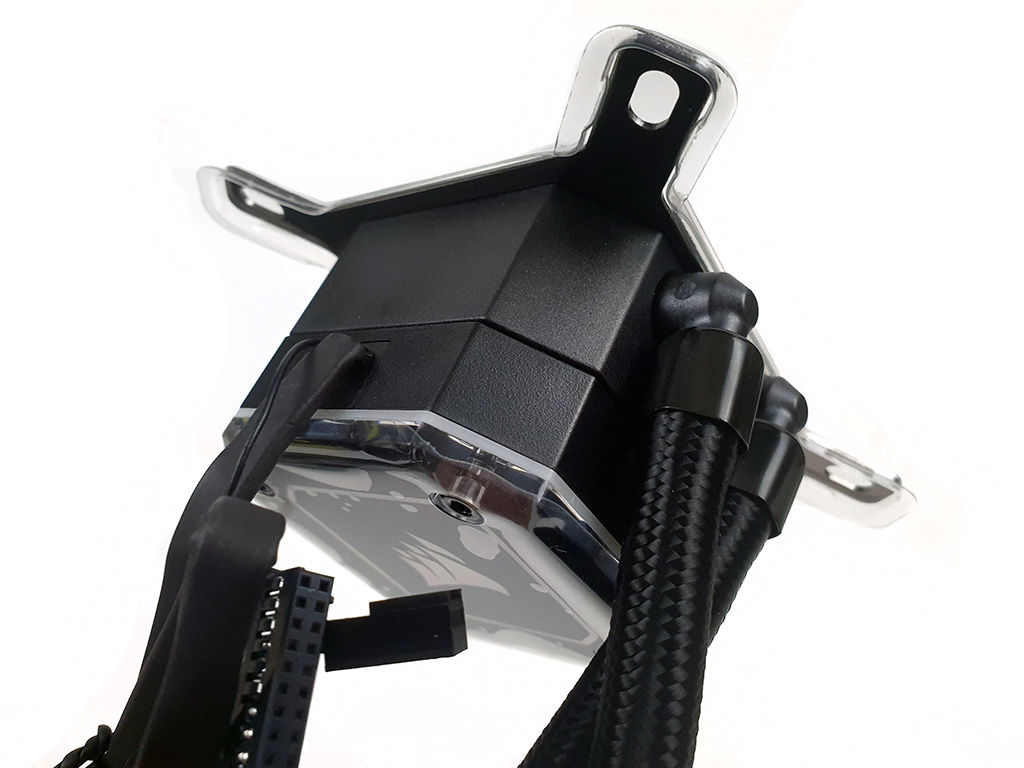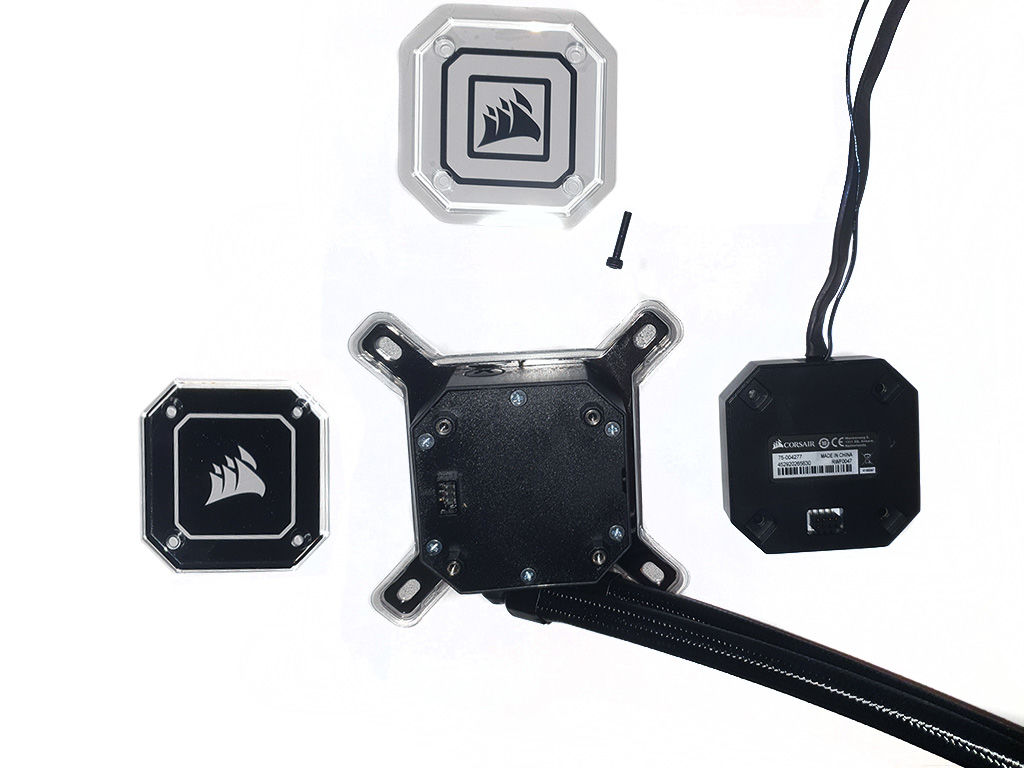 The iCUE Commander CORE is a welcome improvement in comparison to the Corsair AIO liquid coolers of the past. The prior models had multiple wires coming out of the housing, and necessitated a separate USB cable for changing RGB colors. Now the H150i has only two cables (one RPM fan header, and the cable for RGB and power for the pump) to make wire management easier than ever before! The H150i has a special cable to attach to the iCUE Commander CORE, which supports up to six fans and RGB outputs, as well as a temperature sensor (not included), Two 3M double sided adhesive strips can be used for mounting the CORE to your case.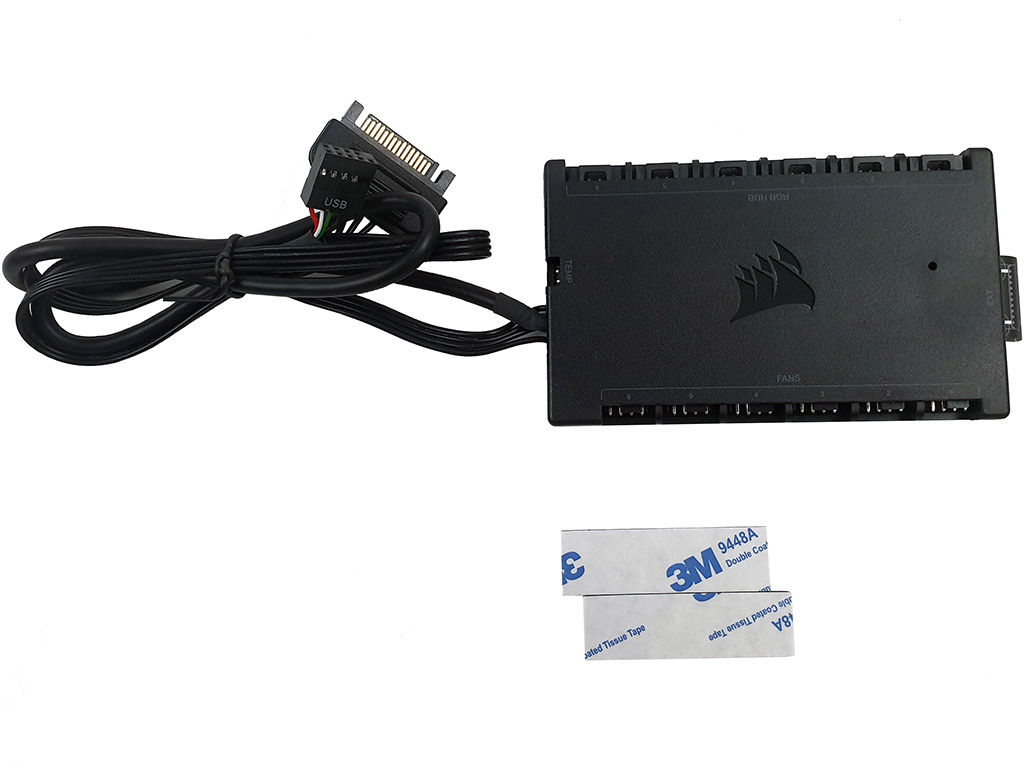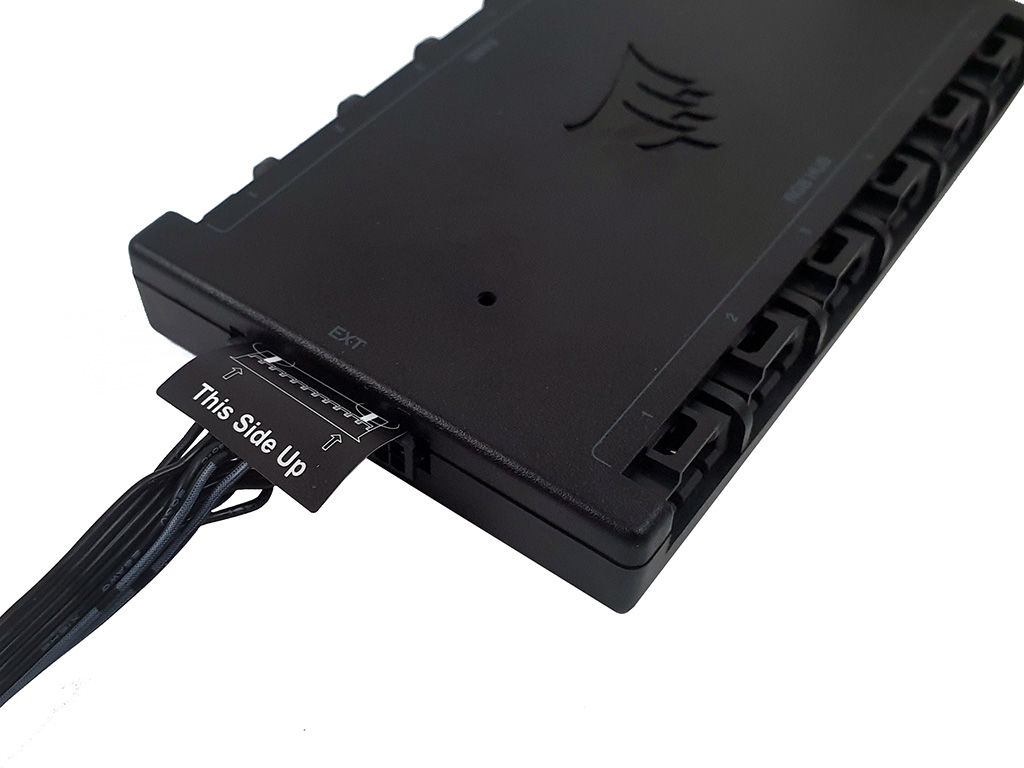 Three ML 120 RGB fans are included, featuring eight RGB LEDs each and magnetic levitation for their bearings. These fans have PWM control, provide up to 75 CFM of airflow, 4.2 mm-H2O of pressure, and genertate up to 37 dBA of sound. Each fan has two cables: one for the fan power and another for the RGB controls.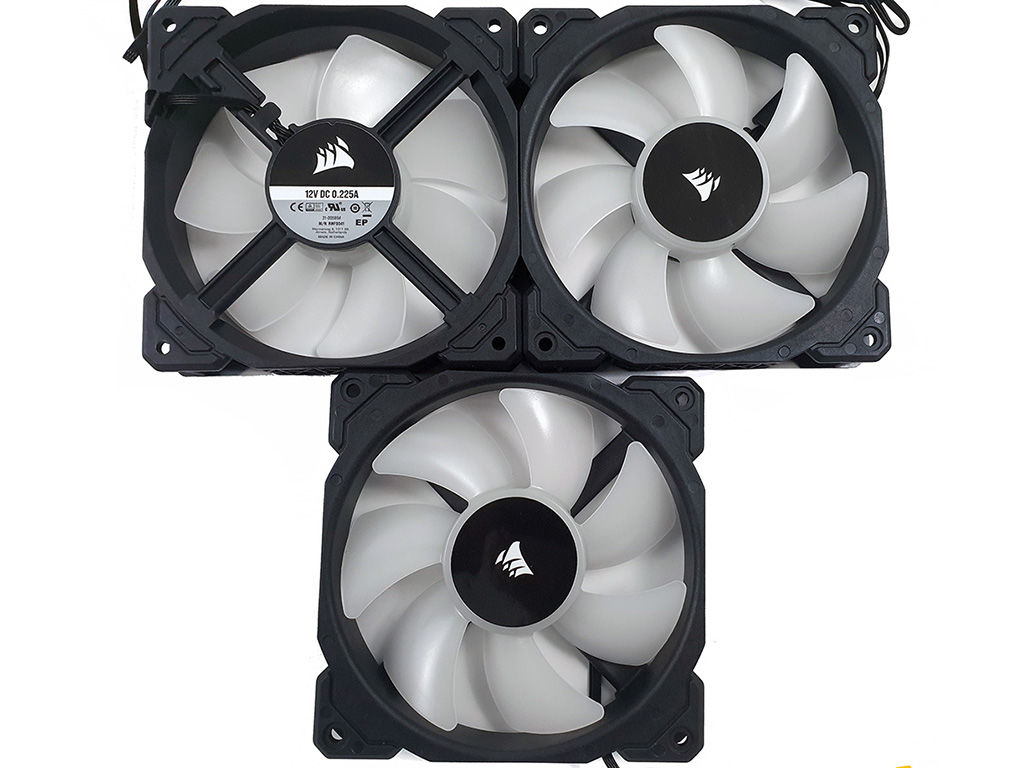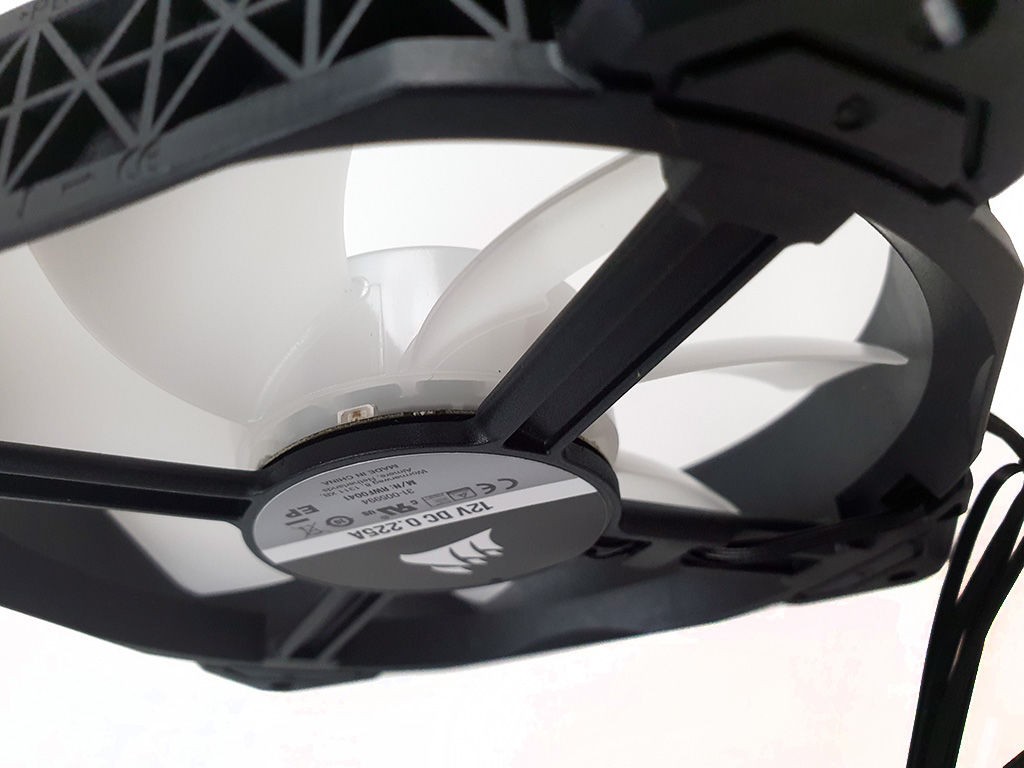 The radiator is minimal and sleek, with the only adornment being the Corsair logo. Other than the small tanks at the ends of the radiator, it hardly takes up any additional space compared to the three fans. The fin spacing is the common 20 per inch, making for a good balance between cooling performance and minimal air restriction.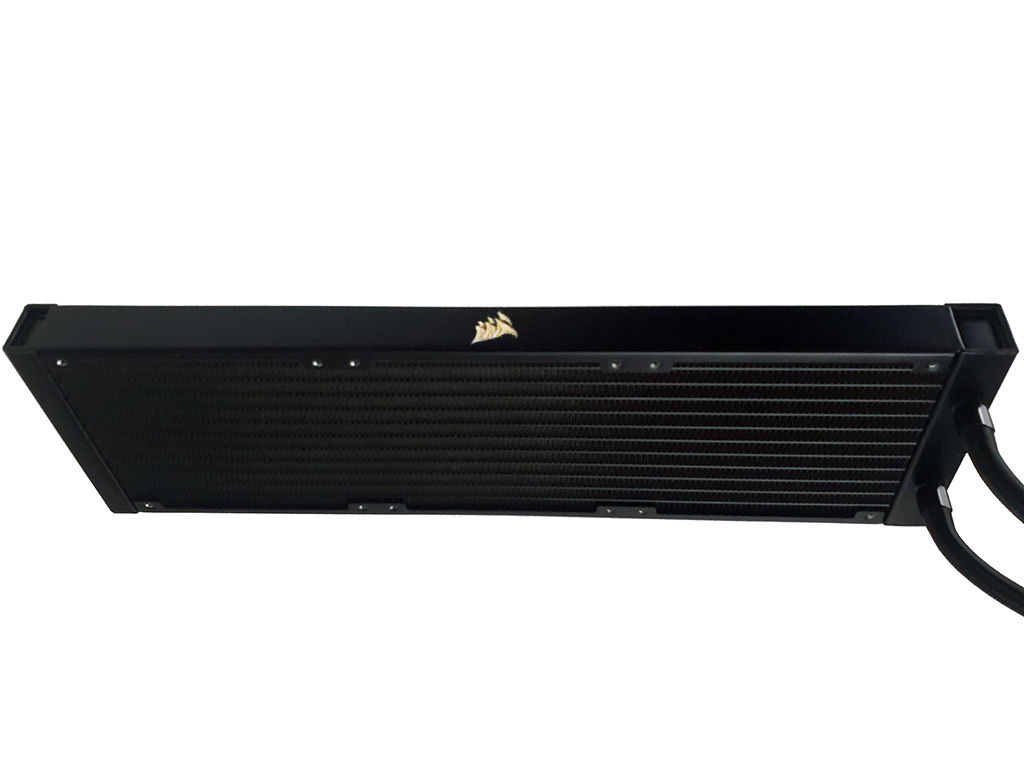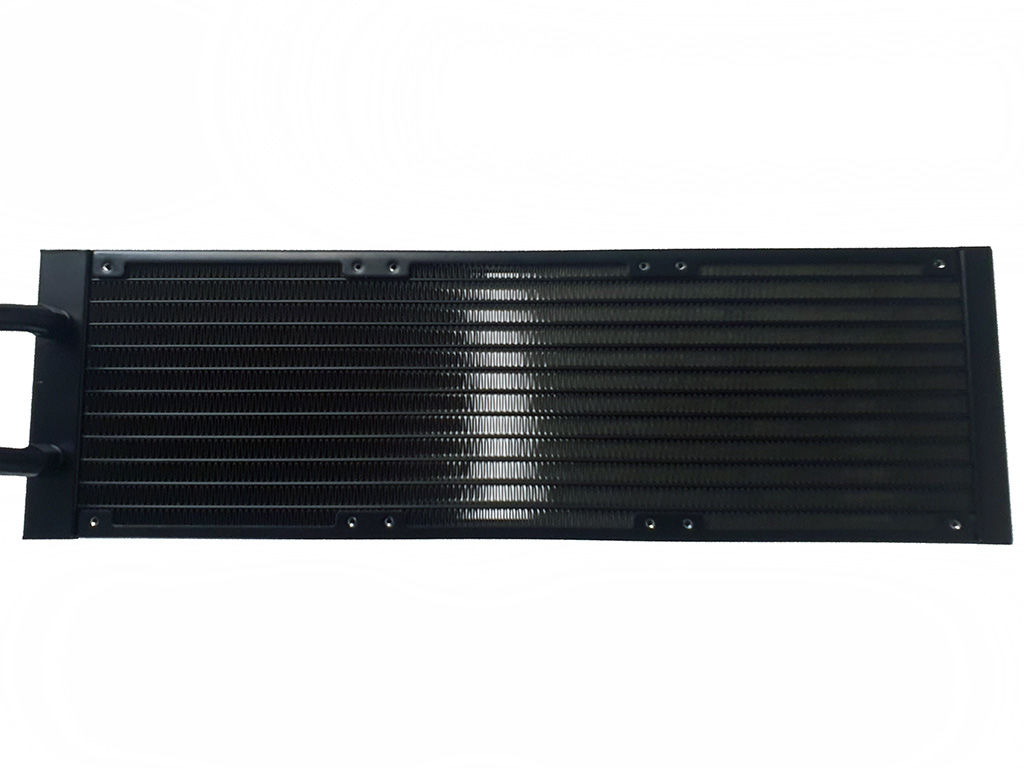 If you like RGB lighting you will LOVE the H150i ELITE CAPELLIX! I swapped out pump caps for the version that allows for more illumination, since all of the other media shows only the default limited black model installed.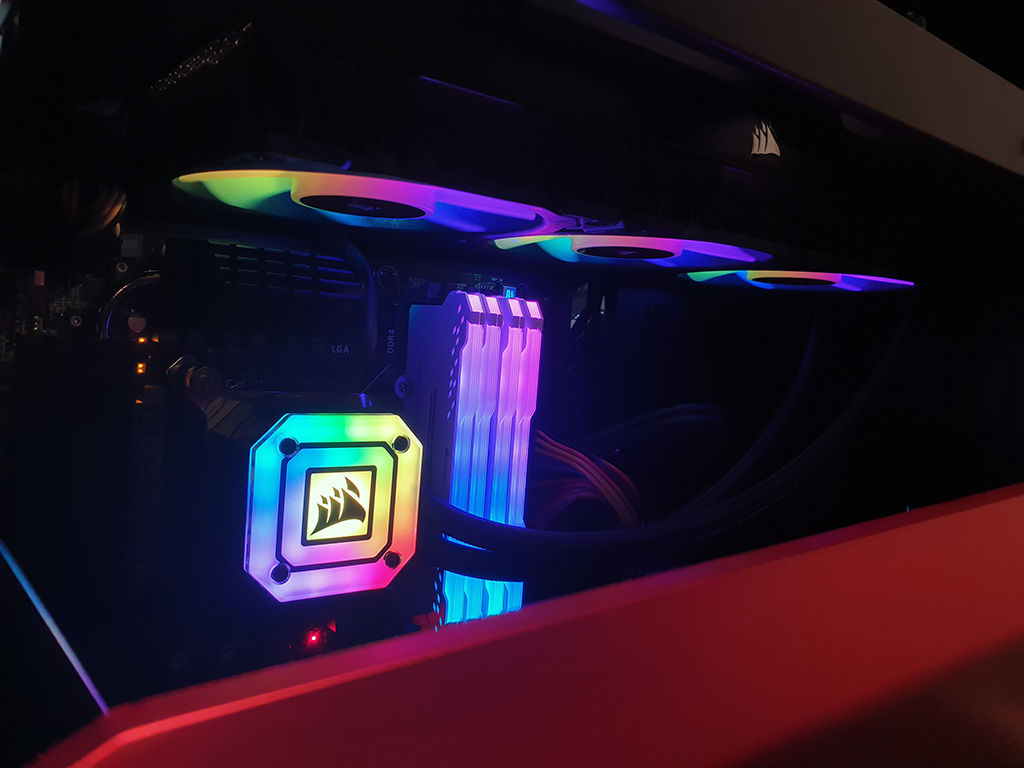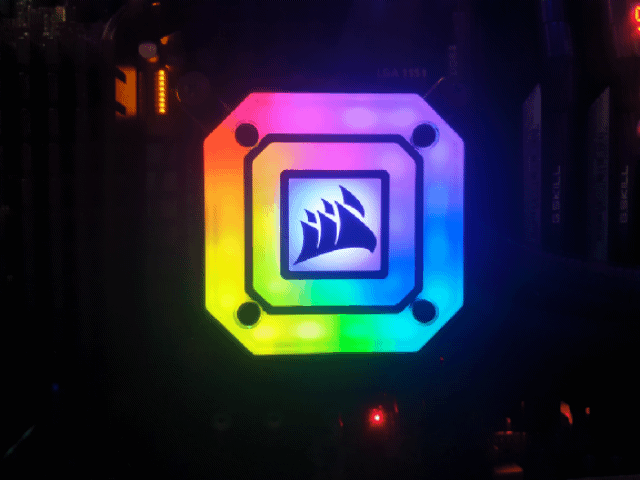 Corsair iCUE H150i ELITE CAPELLIX: Specifications
Cooling Warranty

Five years




Cold Plate Material

Copper




Radiator Material

Aluminum




PWM

Yes




CORSAIR iCUE Compatibility

Yes




Tubing Length

400mm




Coldplate Dimensions

56 x 56mm




Tubing Material

Black Sleeved Low-Permeation Rubber




Radiator Dimensions

397mm x 120mm x 27mm




Fan Dimensions

120mm x 25mm




Fan Speed

2400 RPM




Number of Fans

3




Cooling Socket Support

Intel 1200, 1150, 1151, 1155, 1156, 1366, 2011, 2066

AMD AM4, AM3, AM2, sTRX4, sTR4




Lighting

RGB




Radiator Size

360mm




Fan Model

ML RGB Series




Fan Control Method

PWM




AMD Processors Supported

Ryzen Threadripper, Ryzen, Phenom II, Athlon II, FX, A-Series, Opteron, Sempron, Athlon 64




Intel Processors Supported

Core i9, i7, i5, i3, Pentium, Celeron




Fan Airflow

75 CFM




Fan Static Pressure

4.2 mm-H2O




Noise Level

10 – 37 dBA



Information Courtesy of Corsair @ https://www.corsair.com/us/en/Categories/Products/Liquid-Cooling/iCUE-ELITE-CAPELLIX-Liquid-CPU-Cooler/p/CW-9060048-WW
Corsair iCUE H150i ELITE CAPELLIX: Testing
After getting the Corsair iCUE H150i ELITE CAPELLIX set up, it is time to install it and see how well it performs! An i5-9600K is used for testing, first comparing stock CPU settings paired with the default cooler settings. Next the CPU is overclocked to 4.8GHz AVX-stable across all cores, with the default cooler settings. Lastly, the cooler is ran at full speed with the overclocked CPU to see the best possible performance. Temperatures are recorded at their peak and valley plateaus to prevent issues such as thermal runaway, heat soaking, and other thermal oddities.
Testing Setup

| | |
| --- | --- |
| CPU | Intel i5-9600K @ 4.8GHz 1.40V |
| CPU Cooler | Corsair iCUE H150i ELITE CAPELLIX |
| Graphics Card | NVIDIA GTX 1080 |
| Motherboard | ECS Z370-Lightsaber |
| RAM | CORSAIR Vengeance RGB Pro DDR4 4x8GB @ 3200MHz 16-18-18-36 1.35V |
| Storage Drive | Sabrent 2TB ROCKET NVMe PCIe M.2 2280 SSD |
| Power Supply | Cougar GX 1050W V3 |
The load temperatures are key when looking at any CPU cooler. Here the temperatures for overclocked CPU speeds barely increase, showing that the H150i can handle even more abuse!
Corsair iCUE H150i ELITE CAPELLIX: Conclusion
The Corsair iCUE H150i ELITE CAPELLIX is Corsair's latest revision of their all-in-one liquid CPU coolers. Many improvements have been made over prior generations, with better cabling, vivid and customizable RGB lighting, and magnetic levitation fans. The pump top looks great, and is worlds apart from prior versions. Additionally you can swap the pump cap: one is black and lets only a faint amount of RGB through, while the white alternative is almost fully transparent.
The H150i ELITE CAPELLIX will cost more than other 360mm coolers, but you are not only paying for RGB. For that cost you are also getting an added bonus with the magnetic levitation fans which is one of the best bearings available! They are very quiet, only audible when being pushed near to full speed. The only noise they emit will be from airflow. The pump is also very quiet, operating at under 20 dBA!
The Corsair iCUE software worked perfectly for controlling the fan speeds and RGB lighting of everything, while also showing the pump RPM. Another nice feature is the included iCUE Commander CORE can readily accept up to three more RGB fans. Installation is a breeze, as everything is labeled very clearly and supports basically every AMD and Intel processor released in roughly the last decade.
All things considered, the Corsair iCUE H150i ELITE CAPELLIX is a fantastic, beautiful cooler that would do well in any case that can show it off!